Indonesian-English Translating & Interpreting and Cultural Services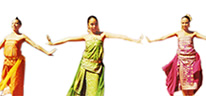 Wot Cross Culture was established by Suzan Piper and Sawung Jabo a in 1995. Its mission is to provide culturally nuanced professional services and strategies to bridge the communication gap between Indonesia and Australia.
Wot Cross Culture provides translation and interpreting services to a range of clients, corporate and private, local and overseas, across a range of subjects. Interpreting work has ranged from interpreting in Australian parliament and courts to interpreting live to air the verdict on Amrozi, the 'Bali bomber'. Literary/arts translations include Rendra's poetry, Seno Gumira Ajidarma's prose, painting catalogues, drama scripts and film subtitles.
Wot Cross-Culture provides arts management services through concert, drama and other arts management, directing and production in Australia and Indonesia . Wot Cross-Culture also provides information and intercultural mediation through research and consulting, business briefings and visit hosting. We write and research on the two cultures and offer advice on effective communication and business strategies.